By: Prisha Dev
Every summer, the demand for rooftop dining in Toronto keeps growing. This city is well on its way to becoming the next New York when it comes to nightlife & rooftopping. The options are endless and can make it hard to know where to go for the ultimate experience. With only a couple of months of sunshine left, here are the top patios to check out before it is too late.  
Harriets
Harriet's rooftop patio is a sleek luscious venue with a 360-degree view of the city. With boozy drinks and a beautiful atmosphere, this place definitely makes the list of rooftop patios to visit this summer. This restaurant boasts a tropical yet minimalistic look and serves Japanese-style cuisine. The specialty sushi rolls are a must-try here. Food Network champion, Chef Aakash Dhall, works alongside other chefs here to create beautiful culinary masterpieces like the "chilli crab roll" which is a top fav here.
Valerie-
Previously known as Falcon Sky bar on top of Hotel X, has now been converted to Valerie; A new rooftop patio that just opened up earlier this summer.  This rooftop patio sits on top of one of the best hotels in the city where you can get unobstructed views of Toronto's skyline. There are two floors which make up Valerie, on the 27th and 28th floor, where the interior is inspired by the roaring 20s. The menu features modern Japanese plates and exquisite cocktails. If you like espresso martinis, olive martinis and old-age classics, the drinks here will take you back in time. Also, expect to be greeted with live music, entertainment and a DJ upon your arrival.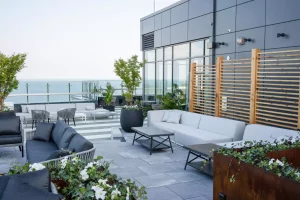 Lavelle-
Lavelle is a classic luxurious Toronto rooftop. With three swimming pools, three bars, an outdoor patio and an inside dining room, this 16,000 sq ft venue is trending in the city. The food and drinks are definitely top of the list where Brazilian meets Japanese in their expansive menu list. The spicy dynamite shrimp and poblano pistachio pasta are popular eats at this place. As for drinks, the signature cocktail list changes every summer. This season's popular and highly rated drinks are the blue island margarita & kiwi basil mojito. As for the weekends, there is always something going on. Whether it is a pool party, DJ events or spotting celebrity guests like Lebron James who recently hosted an event at this rooftop patio.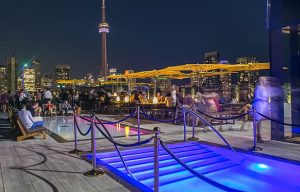 Kost-
Kost is a glamorous rooftop 44 floors on top of the famous Bisha hotel. This gorgeous venue has a beautiful pool and clear views of the CN tower. The menu offers Baja Californian-inspired dishes and drinks. This place is perfect for brunch, mimosas and some pool time relaxation. At night, expect a mix of music played by some of the city's best RnB and house DJs, including events hosted by Cultto. Great for a girl's day/night out or networking.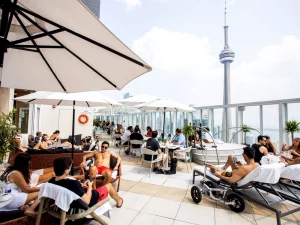 The roof at SOCO –
For anyone who loves a good Instagram photo, this rooftop bar has some of the closest views to the CN tower. Boasting hip and chic vibes, this place gets busy during the weekends. With shareable plates, summer drink pitchers, bottle service and floor games, this is a great location for larger groups. There is normally a huge lineup so making a reservation at least a week in advance is helpful. 
The One Eighty-
This is the highest rooftop patio in Toronto, sitting 51 floors on top of the Manulife centre. Newly renovated with a chic interior and clear views of the CN tower skyline, this is the perfect place for a romantic date up in the sky. There is also a variety of food to try that highlights the quality of the ingredients and dishes served on this patio. The Branzino and Herb Roasted Half Chicken are some of the feature dishes worthy of indulging in at this beautiful venue. To make this visit more intimate, you can even order some drinks, a bottle or sparkling cocktails with the bar cart.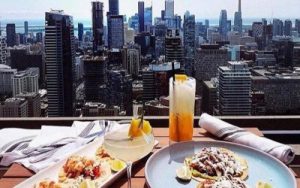 Kasa Moto-
Yorkville patio + summer = iconic duo. Kasa Moto is a Yorkville favourite with a high-end Japanese selection. The lush green decor and classy vibes make this a good venue for impressionable vibes and photos. There is a variety of exotic cocktails and dishes which embody Japanese traditions that are served izakaya style. "The farmers, fishers, and producers we feature on our menu dedicate their lives to caring for the world around us through responsible agriculture and sustainable practices. We are honoured to serve you their harvest", Kasa Moto. 
All photos are used for content purposes, no copyright infringement is intended.